Wallpaper images can span multiple monitors or splits, while displaying a separate image on other monitors/splits, ideal for people who run less conventional multi-monitor arrangements.
For Wallpaper images to span multiple monitors with specific combinations, you'll need to follow these steps:
Right-click the DisplayFusion tray icon and click "Desktop Wallpaper." You can also access this via the Options tab in Settings.

Select a monitor by left clicking on it in the Wallpaper Preview. A red box will surround the selected monitor. For this example, this will be your "source" monitor.

Choose a Wallpaper Source by clicking the "Change" button and selecting a source (some require accounts or specific configuration).

Additional source settings can be made via the "Load Image" button or "Get Settings" button (when "Enable desktop wallpaper slideshow" is enabled).

Select a second monitor/split which you would like to share the same Wallpaper Source as selected for your source monitor.

Right-click this second monitor and select "Combine With..." from the menu, choosing your source monitor.

Click "Apply."
Combining monitors can also be done via the Wallpaper Source "Change" button. Click "Change" and choose the source monitor from the source list.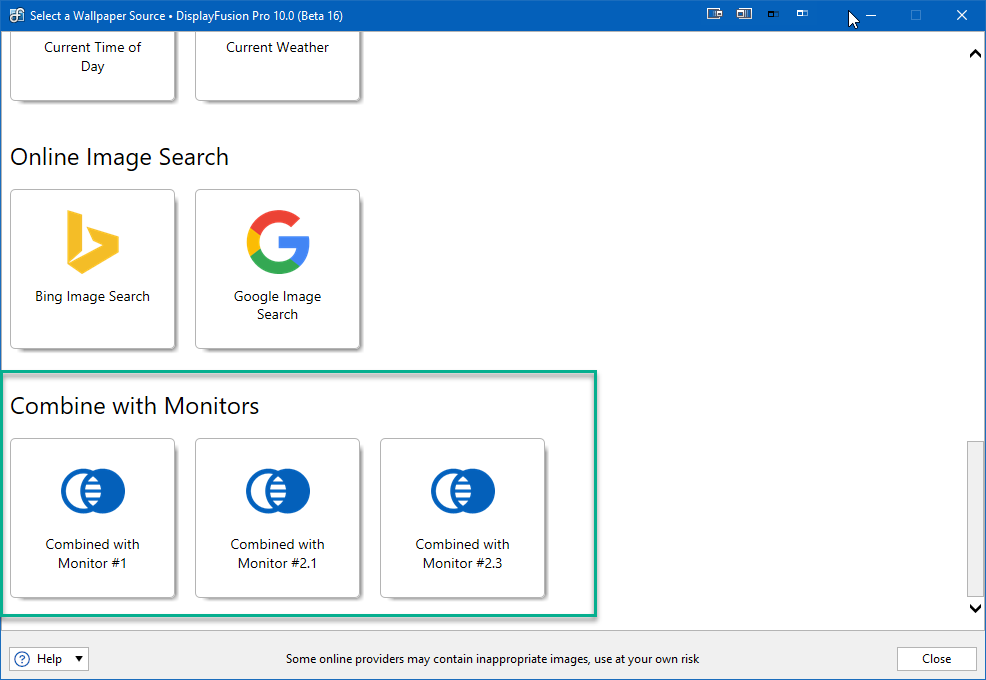 To edit combined monitors, use the Source and Settings of the source monitor. Changes made there will automatically apply to its combined monitors.