The DisplayFusion My Videos wallpaper source will let you use your video files or animated images as your desktop wallpaper. To use the My Videos wallpaper source, you will need to have Windows 8 or later installed on your computer, a working version of DirectX 9, and the correct video codecs to view your media files.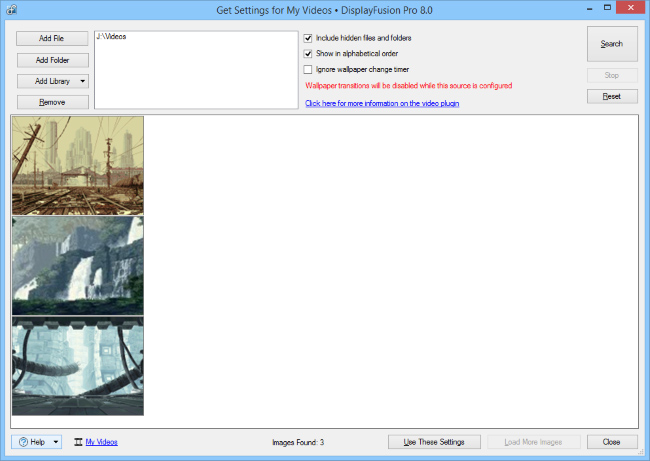 Muting and Unmuting Videos
To mute or unmute any My Videos wallpaper sources that are running, click the 'Wallpaper Settings' button on the Desktop Wallpaper window to open the Wallpaper Settings window, then check or uncheck the "Mute all audio for the video wallpaper source" option.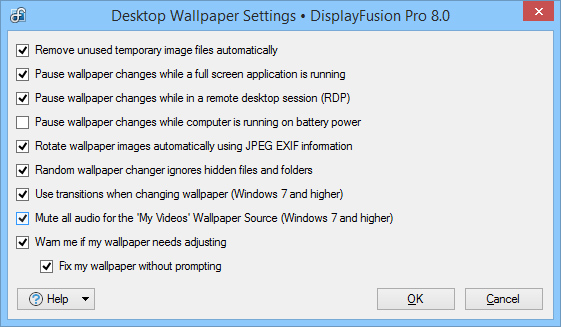 Codecs
Codecs are programs that are installed on your computer that help encode and decode video files. Windows comes with basic ones that let you view common file formats, such as DivX encoded files (usually .avi), or Windows Media Video files (.wmv). To view other file formats, you may need to install a codec pack to help DisplayFusion make sense of your media. There are many packs to chose from, but if you are new to the concept of codecs, we recommend this light weight package.
To learn more about codecs, please view this site.
Other Common Problems
Codecs installed but blank desktop when applying video wallpaper:
Check that you have the correct bitness for the installed codecs. e.g. if your copy of Windows is 64-bit, make sure to install the 64-bit version of the codecs.
Open "Control Panel > Ease of Access > Make the computer easier to see," and disable the "Turn off all unnecessary animations" option.
DirectX 9
All versions of Windows 7 and later have a working copy of DirectX that will be compatible with the My Videos wallpaper source, but sometimes different software installations can change files or even corrupt them. To check your DirectX installation, run the dxdialog to see the status of your installation. To run the dialog, open the Run window by pressing Win+R and type 'dxdiag' in the text field.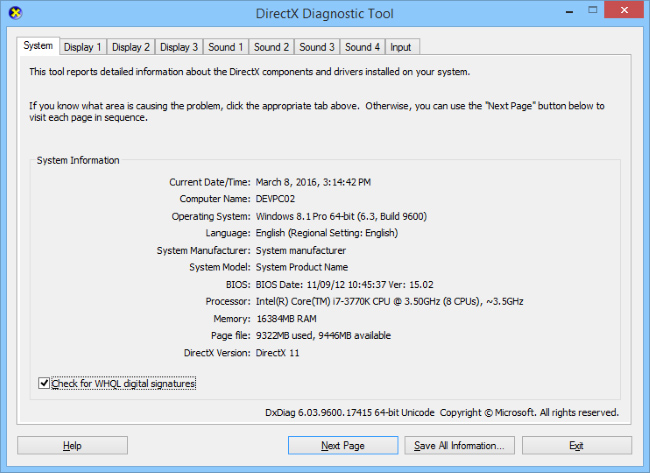 If you have any problems with DirectX, we recommend downloading this distributable pack to fix your installation