DisplayFusion has many built-in Functions for moving, sizing, or otherwise manipulating program windows. If you have a particular need that can't be fulfilled by the built-in Functions, you can also create custom Functions.
You can create Functions to move a window to a specific location (down to the pixel) on the screen, set it to a specific size (down to the pixel), move it to a specific monitor, or any combination of those three actions. You can also create Functions for toggling window transparency, moving the mouse cursor to specific locations or monitors, or launching an application.
How To Create a Custom Function
The basic steps for creating a custom Function are as follows:
Open the DisplayFusion Settings > Functions tab.
Click the 'Add Custom' button.
In the 'Name' box, enter a name for your Function. This name will show up in the list of Functions, as well as the Function list in the Window Location rules, and when hovering over the TitleBar Button (if you enable the TitleBar Button for this Function).
If you'd like to run this Function using a keyboard shortcut, click the 'Edit' button next to the 'Key Combination' box. Then select the modifier keys by clicking them with your mouse (selected ones will turn blue), choose a keyboard key to go along with the modifers, and click OK.
Choose an action from the 'Function Action' drop-down.
Configure the settings specific to that Function Action in the 'Custom Function Actions' section. If you've chosen the 'Manage Window' Function Action, you can use an existing window's size and location for the Function values by dragging the target icon from the bottom of the Create Function window and dropping it onto the target window. DisplayFusion will automatically get the size and location values from that window and populate the settings in the Create Function window.
Click OK when you're done configuring the Function.
If you'd like to run this Function from a TitleBar Button, select it in the list of Functions and click the 'Toggle TitleBar Button' button.
Custom Function Examples
The 'Toggle Window Transparency,' 'Launch Application,' and 'Move Mouse Cursor' Function Actions are pretty self-explanatory, so we'll skip those. Here are some screenshots for a few examples using the more comprehensive 'Manage Window' Function Action:


Move the window to the centre of monitor 2 and size to 75% width and 60% height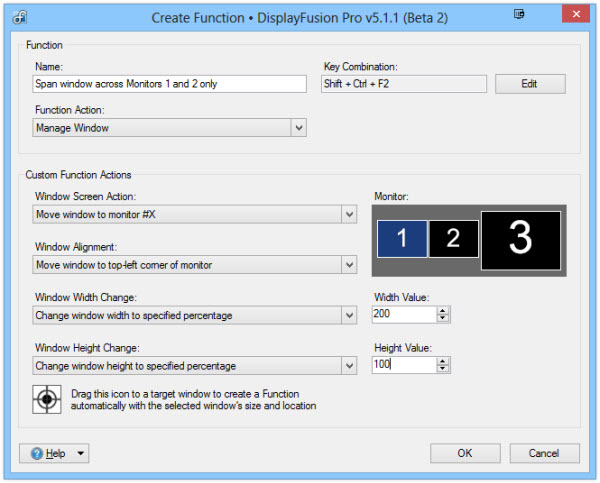 Span the window across only 2 monitors in a 3 monitor setup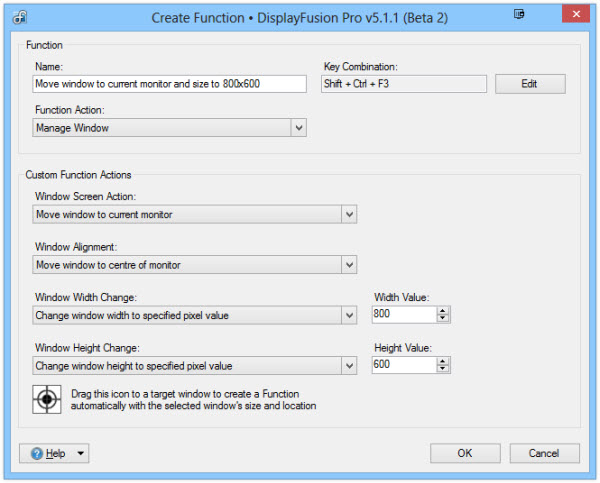 Move window to current monitor and size to 800px width and 600px height
As always, if you have any questions or need to report an issue, please post them in the DisplayFusion Discussions, or contact us directly.