I am very pleased to announce the release of DisplayFusion 3.0! This release represents the most significant changes DisplayFusion has ever seen, and some of the most exciting new features. It has been 1 year since I released DisplayFusion 2.0 back in February 2008, and a healthy community has grown up around DisplayFusion since then. I have had many people submitting suggestions and others offering to help with testing and translations. As a result, DisplayFusion 3.0 has been under heavy development and community testing for the last 3 months, with over 50 people actively testing in 9 languages on every version of Windows from Windows 2000 to Windows 7 and everything in between.
The single biggest new feature in DisplayFusion 3.0 is the addition of Multi-Monitor Taskbar support for DisplayFusion Pro users. This has been the most requested feature since DisplayFusion was released, and has also required the most amount of work to develop. Thanks to a significant amount of testing, the Multi-Monitor Taskbar support in DisplayFusion 3.0 is first-class and completely integrates with Windows. It uses the standard Windows Themes in Windows XP/Vista, and even works perfectly with hacked Windows XP themes that use a modified UxTheme.dll file. There are a variety of configuration options available for the Multi-Monitor Taskbar, allowing you to configure it exactly the way you want to.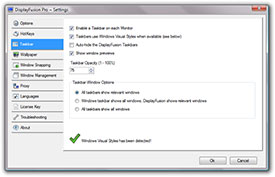 One huge benefit from community involvement is the addition of more language translations. DisplayFusion 2.2 was originally released with 3 languages, but I happy to announce that DisplayFusion 3.0 now has 9 supported languages and is constantly growing. DisplayFusion 3.0 is being bundled with 4 languages (English, French, German and Spanish) with 5 more available for immediate download (Italian, Swedish, Simplified Chinese, Dutch and Portuguese).
When I released the first version of DisplayFusion with integrated Flickr support, I had every intention of adding more image providers at a later date. However, most wallpaper sites don't provide an API like Flickr, and as a result integration just isn't possible in most cases. During the development of DisplayFusion 3.0 I was approached by Vlad from the popular Vladstudio website. Vladstudio has arguably some of the best wallpapers available for download, and all of the standard resolution images are completely free. The new Vladstudio wallpaper integration is free for everyone to use and allows access to the entire Vladstudio collection. People with paid Vladstudio accounts will have access to higher quality multi-monitor wallpaper, but free users aren't left out. Free users will have access to the same excellent images, just at a lower resolution.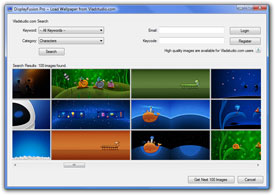 DisplayFusion 3.0 has also received a complete interface overhaul. Every piece of the interface has been revised and streamlined to allow for easier use. For example, the Settings window has been divided up into more tabs for better separation of configuration options, while becoming easier to navigate at the same time.
The Wallpaper settings window has also undergone a transformation. With the addition of some excellent new image post-processing features (free for everyone to use) and the streamlining of the interface, it is now more powerful and easier to use than ever. You can do everything from applying a single image on one monitor to setting a random Vladstudio image to be spanned across all monitors. Everything has been simplified, but made more powerful at the same time.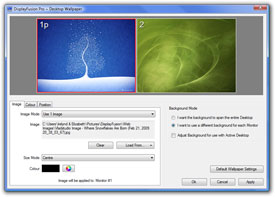 There are a number of smaller, frequently requested changes in DisplayFusion 3.0 as well. For example, the addition of a HotKey to change to a new random wallpaper image (DisplayFusion Pro only). Moving windows between monitors has been made even easier now, thanks to the addition of the new middle-click window movement option. When enabled, just middle-click on a window's caption bar and the window will be moved to the next monitor. Very easy, and much faster than dragging the window to the desired monitor. Of course, the old drag-and-drop window movement is still there, and has been enhanced to provide better application compatibility.
DisplayFusion 3.0 also introduces a special game detection feature. When a game is starting up DisplayFusion will suspend all background operations to free up maximum systems resources for your game. Once you exit the game, DisplayFusion will resume everything automatically without you having to touch anything.
As always in any big release there are dozens of bug fixes as well. DisplayFusion 3.0 includes some fixes that apply to wallpaper centering, mouse lag, HotKey bindings and much, much more.
I would encourage everyone to update to DisplayFusion 3.0 today. If you have the auto-update option enabled you will be prompted to update the next time you start DisplayFusion. If you don't have auto-update enabled, just head over to the DisplayFusion page to download the new version. DisplayFusion Pro users don't need to worry, your existing license will work with DisplayFusion 3.0 and all future DisplayFusion versions.
I would like to send out a big thank you to everyone who helped to make this release possible. From the people who submitted suggestions, to the people who helped translate and test, you all made this release possible.
Thanks everyone!