We're very pleased to announce that DisplayFusion 5.0 is now available for download! With this release, we're also running a sale, with all license types discounted by 30% until February 18th!
There are many exciting new features, changes, and bug fixes in this version. We've added
new online wallpaper sources, support for third-party Start menu programs in Windows 8, Windows 8 Tweaks, full taskbar jump lists
, and more!
DisplayFusion 5.0 Highlights
New Online Wallpaper Sources: 500px and our very own WallpaperFusion
Added new rotate and flipping/mirroring adjustments for wallpapers
Linear gradients can now be used as the wallpaper background colour
The current wallpaper image can be easily located on your computer by double-clicking the image preview in the Desktop Wallpaper window
Desktop Wallpaper window now re-uses the image chooser windows so that you don't have to re-do the same search for each monitor
DisplayFusion Taskbars in Windows 8 now support third-party Start menu replacements (StartIsBack, Start8, Classic Shell, and Start Menu X)
DisplayFusion Taskbars now show full jump lists for pinned and running applications
Windows 8 Tweaks have been added (Boot to Desktop, Mini Start Screen, Move Power User Menu, and Resize Window Borders)
Fixed some issues with Monitor Profile detection and loading
Fixed Wallpaper and Settings window sizing when DPI scaling is enabled
30 Languages bundled
Many behind the scenes changes, bug fixes, performance and stability improvements
WallpaperFusion Integration
We're very excited to announce that DisplayFusion 5.0 fully integrates with our own image provider, WallpaperFusion. From the Desktop Wallpaper window, you can browse and search the WallpaperFusion library of images and select a single image. You can also specify search criteria and have DisplayFusion automatically load random images from WallpaperFusion on a specified interval. We encourage everyone to give it a try, and we welcome any feedback you have related to the site.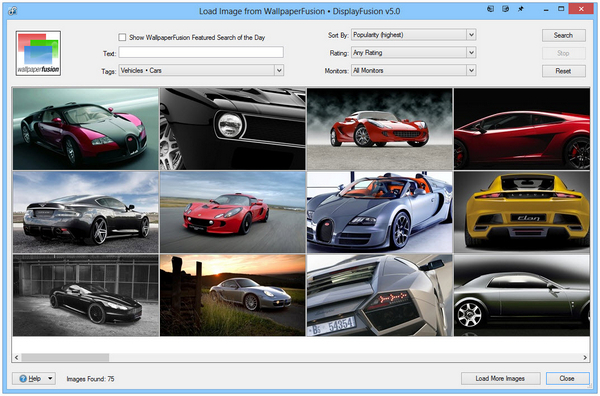 Updating DisplayFusion
We encourage everyone to update to this new version today to take advantage of these improvements. If you've already purchased DisplayFusion, it's a lifetime license, so you can upgrade to this version at no cost! If you would like to see a complete list of all the changes, please visit the DisplayFusion Change Log. We'd like to send out a big thanks to the dozens of people who helped with the DisplayFusion translations, and the thousands of people that helped test the Beta versions. Thanks everyone!
Update: The sale is now over. We'd like to send out a big thanks to everyone who supported DisplayFusion by purchasing a license!
For your viewing pleasure, here are some screenshots from DisplayFusion 5.0: